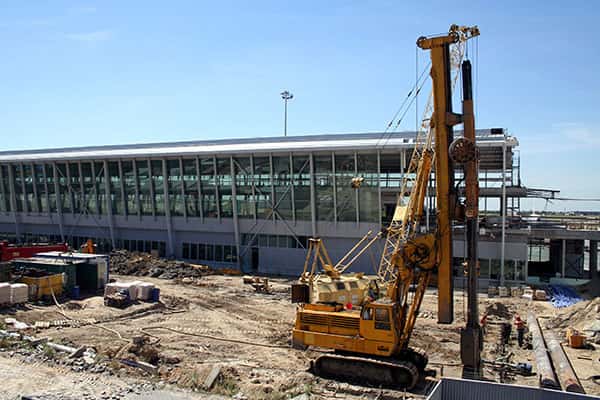 Midwest Business Consulting is proud to offer clients a number of construction management services – our skilled team of project management professionals in Chicago, IL will integrate seamlessly with your construction project to augment your team and support your project goals. We work closely with key stakeholders to define the exact project scope required to meet business goals and draft effective project plans to ensure the desired outcomes are achieved. The result is quality projects delivered on scope, on schedule and within budget.
We have participated on projects large and small, ranging from $150K to $42.5M. We have served as an integral part of several projects from conceptual design, to systems commissioning and even onto overseeing the day-to-day Operation and Maintenance (O&M) of those systems. MBC's diverse range of participation and experience offers clients the unique value of a 360⁰ solution - from maintenance considerations to contingency planning and safety, trust the professionals at MBC to support your construction project and help your team assess the true impact of design decisions. Some of the construction management and consulting services MBC offers include:
Project Planning / Project Management
MBC maintains a close-knit network of PMI-Certified Project Management Professionals and Subject Matter Experts in various industries and business sectors to provide our clients with an unrivaled agility that allows us to rapidly mobilize project teams to assist you on the most delicate of construction projects. Our PMs have experience managing projects ranging from $30K to $30M and operate in a variety of specialties. We work closely with project stakeholder groups to develop appropriate project strategies in Chicago, IL to ensure all Key Performance Indicators (KPIs) are met on time and on budget.
Experienced construction managers are well aware of the value of a skilled and effective Project Manager. Large construction projects often intertwine project sponsors with a variety of stakeholders from various business sectors including, subject matter experts, skilled trades, regulatory agencies and product vendors. This wide range of roles brings with it a broad range of interests and motives - improperly planned projects which lack clear direction, constraints and protections will undoubtedly face an uphill battle with schedule delays, floating scopes and cost overages.
At Midwest Business Consulting, project planning and project management is what we do - this philosophy permeates every aspect of our business model. We bring the proper PMI-certified Project Management Professionals together on a project-by-project basis to meet client goals at the best possible cost. Whatever your business needs, trust MBC to serve as your project advisors.
Owner's Representative Services
Irrespective of scope, project owners must maintain a diligent watch over construction activities and progress to ensure execution proceeds according to plan. In light of recent 'Lean' trends, which have left most managers heavily taxed, the time required to take on additional construction-related responsibilities just isn't there. As skilled owner's representatives, let Midwest Business Consulting serve as your trusted project delegate.
In addition to our background as project managers, operations management lies at the core of our service offering. Founded by a former naval missile systems technician, MBC maintains an unwavering focus on the anticipated day-to-day operations and maintenance of equipment / systems throughout the construction process. Put the MBC Team to work on your project today to scrutinize project plans for inadequately defined deliverables and ensure that the needs of the operations team – often overlooked in project planning / construction – are thoroughly planned for and represented. We'll review drawings for maintenance issues, ensure sufficient training is provided for and will work closely with the project team to develop a well-planned transition strategy in advance of systems turnover. As the project nears transition, we'll act as a liaison between the project team, the operations group, maintenance staff and end users to ensure all parties are trained, tools, equipment and spare parts are on site and the project is prepared to successfully transition to daily operations.
Whatever your construction-related needs, you can count on MBC to provide highly experienced personnel to watch over your project's interests, protect your investments and advise on and/or make mission-critical business decisions on your behalf. Let Midwest Business Consulting help your project succeed!
Project Closeout, Punchlist Oversight, Commissioning and Warranty Fulfillment
As experienced Project Managers, trust the professionals at MBC to ensure your construction project requirements have been fulfilled and project goals are effectively met. We will work with your stakeholder group to fully assess the project deliverables and Key Performance Indicators to verify that contractors are performing per contractual commitments. We'll also make certain that a detailed punchlist is developed, acknowledged and completed prior to project closeout and final payment.
Our experienced management team will remain closely coordinated with the project at all times to effectively manage the transition from the project team to the end user. We'll work with OEMs and vendors to ensure sufficient training is planned for and provided, operating and contingency plans are developed and an effective transition strategy is developed in advance. As the project nears that transition, we'll act as a liaison between the project team, the operations group, maintenance staff and end users to ensure all parties are trained, tools, equipment and spare parts are on-site and the project is prepared to successfully transition to daily operations.
Last, but certainly not least – we'll assist maintenance teams in mobilizing day-to-day operations and developing an effective warranty fulfillment program. With estimated first year costs ranging anywhere between 3% and 11% of the contract value, project owners can't afford to overlook warranty fulfillment. We'll assess warranty requirements, ensure systems turnover documentation is complete and accurate, note Dates of Beneficial Occupancy (DBO) and ensure procedures are developed and followed to comply with reporting and parts-return requirements.
Call Midwest Business Consulting today to learn more about construction management in Chicago, IL.